Mineral Rights Broker

If you want to sell mineral rights picking a mineral rights broker is an important decision.   Picking the right mineral rights broker is the difference between a smooth transaction and a nightmare!  The ideal mineral rights broker will help you navigate the process of selling mineral rights and ensure you get the best market price available.  If you are considering selling mineral rights this article will help you better understand why you need a mineral rights broker and how to pick the right one.
Why do you need a mineral rights broker?

When you decide to sell mineral rights, you need to decide whether to use a broker to sell them on your own.  There are a number of reasons why selling mineral rights with a broker is important.   It is important to point out that selling mineral rights without a broker is easy!  If it's easy to sell mineral rights without a broker, why do you need one?  There are two primary reasons to use a mineral rights broker:
Price:  When you sell mineral rights the key to getting the highest price is exposure.   To get the best price you need to get your mineral rights in front of thousands of buyers.   These buyers will then compete to pay you the highest price.   A good mineral rights broker will quickly get your mineral rights in front of thousands of buyers creating competition and ensuring the best price for you.
Closing Process:  The closing process can be complicated and confusing for a lot of mineral owners.  The reason is that buyers will provide you with a purchase and sale agreement that dictates the terms of closing.  This agreement will govern how adjustments at closing occur.  If you are not familiar with the terms of this agreement, you may be in for a big surprise at closing.   For example, if buyers stipulate a specific price per net royalty acre vs net mineral acre price do you understand the difference?  What adjustment occurs if there is a carve out or ORRI associated with your ownership?  A good mineral rights broker will help you navigate the legal documents necessary to close the sale.
How to pick a mineral rights broker

There are a lot of different options when trying to find a mineral rights broker.   However, not all mineral rights brokers are even.  In fact, you might end up getting a terrible deal by selecting the wrong mineral rights broker.   Here are some of the things to look for when selecting a mineral rights broker:
Website Quality:  This is obviously subjective, but it has become very easy to set up a basic website and claim to be a broker.   As you navigate each website, take some time and look at how the website is laid out.  Is it easy and intuitive?  Is there quality information organized in a way so that you can easily learn more about your mineral rights?  You can learn a lot about a mineral rights broker by looking at how much time went into putting their website together.  If it's just a few basic pages of information, use caution.
Listings:  Some services claim to be a mineral rights broker, but there are no mineral rights auctions or mineral rights listings.  If a mineral rights broker does not have any listings, why?  A mineral rights buyer needs an easy way to locate deals on your website and review the necessary information.  If you are running auctions, where are those taking place if they are not on the website?  Use caution if you do not see any listings or auctions running.
Valuation Brokers:  We have seen a number of valuation brokers show up in recent years.  These brokers spent significant money building out platforms to provide you with an estimate of mineral rights value.  The valuations they provide are based on the reserve value of your mineral rights.  However, the valuations they provide are simply not accurate.  They will typically provide you with a range of value that is so large, the "estimate" is effectively worthless.  For example, if you got an estimate on your home and they said the value was between $250,000 and $750,000, how much value does that estimate have?  None!  The market dictates the price when it comes to mineral rights.   Use caution with any broker who claims they can tell you the value up front.  There are some general rules of thumb you can use, but the market sets the price.
Commission:  Every mineral rights broker collects some type of commission from the buyer when they close the sale.   We have seen commission rates from 5% up to 15%+ depending on the mineral rights broker.   When comparing two mineral rights brokers, do not simply select the mineral rights broker who is charging a lower commission.    Doing so could cost you thousands of dollars!  You may save 1% or 2% on commission, but a quality mineral rights broker will easily get you a far better price even with a slightly higher commission taken into account.  The amount of commission a mineral rights broker charges should be defined up front.  Any broker who will not tell you what commission they get could easily be taking advantage of you.  For example, if you agree to sell for $100,000, the mineral rights broker may have found a buyer who was paying $125,000 and they get to pocket $25,000 or a 25% commission!!
Mineral Buyers:  It seems that every mineral rights broker claims to have "thousands of mineral right buyers" and some even claim to have tens of thousands of mineral rights buyers.  Unfortunately the absolute number if difficult to verify.  However, we can tell you that many mineral rights brokers have simply purchased an "oil and gas mineral rights email list" with 10,000+ emails on it, and then claim to have a large number of mineral rights buyers.     While we do not disclose the number of mineral rights at US Mineral Exchange, we truly have thousands of mineral buyers who have registered for an account and are currently active on our website.
Legitimate Reviews:  Take some time and to read reviews about each mineral rights broker before you select one.  If you really dig in and read the reviews, it should be pretty obvious which mineral rights brokers are legitimate.   There are bound to be a few negative reviews for any mineral rights broker, but it should be easy to determine which brokers have honest reviews from real clients and which ones have stuffed their reviews with 5 star ratings.   At US Mineral Exchange, every single review is from a client that we have closed a deal with and we have the mineral deeds on file to prove it!
Selling Mineral Rights at US Mineral Exchange

Obviously we are biased, but we believe selling mineral rights at US Mineral Exchange is in your best interests for all the reasons listed above.  Our company has spent years developing our website from scratch.  We have spent significant time, money, and resources developing a truly comprehensive education system on our website along with the free mineral rights guide linked below.  US Mineral Exchange offers the #1 listing platform in the United States for both mineral buyers and mineral owners.
If you are looking for a mineral rights broker, we hope you will consider US Mineral Exchange.   Our company consistently helps mineral owners get maximum value when selling mineral rights.   We also help ensure a smooth closing process and take the hassle out of selling mineral rights!
Common Questions

FREE GUIDE

Download our free mineral rights guide now!  Learn more about your mineral rights.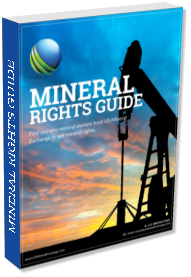 Client Reviews