Oil Surges 8% Higher

When oil surges 8% higher it can create waves in the oil market.   Many are wondering whether the price of oil has finally seen the bottom.   After oil surged 8% over 3 days it marked the biggest 3 day gain since 1990.   Even with this sharp increase in prices, oil sit at less than half of what it did just 1 year ago.  The impact is being felt across the entire industry.
Oil Prices have far reaching effects

The price of oil is having an immediate impact across the industry.  Operators are being forced to reduce their capital expenditure.   This means less rigs are operating.  With less rigs comes a decrease in the demand to lease mineral rights.  Operators are focused on drilling the acreage they have already leased and not on leasing new acreage.   What does this mean for you?  If you're a mineral owner it means that it may be many years (10+ possibly) before you get leased.   If you are already leased, it means that the operator may not drill on your property.
With lower oil prices, operators are focusing heavily on areas with the greatest reserves.  Places like Belmont County Ohio, McKenzie North Dakota, and Stephens County Oklahoma are still seeing strong demand.
When will the pain end?

The main reason we have seen the market price of oil decline is due to supply.  OPEC has continued to produce at the same rate as they have in the past.    The fracking technology that created a boom in US Shale Production is also the same thing causing the decline.  We have figured out how to produce a large amount of oil from each well drilled which has led to over supply.   Combine this with a decreasing demand and the price of oil is set to remain low for some time.
Selling Mineral Rights

If you are thinking about selling mineral rights or selling royalties now is still a good time.  There is still demand for your property regardless of the price of oil.   There are many reasons that owners choose to sell so it really comes down to whether now is the right time for you.   The market value of mineral rights is going to be based on what buyers are willing to pay today for your property.
If you want to sell mineral rights or buy mineral rights, you can get started by creating an account with us.
Contact US Mineral Exchange:

If you have questions about your mineral rights, we're here to help!  We speak with mineral owners every day and we look forward to hearing from you.  Please don't hesitate to fill out the form below with any questions and our friendly team will respond quickly.
Common Questions

More Content from


US Mineral Exchange

FREE GUIDE

Download our free mineral rights guide now!  Learn more about your mineral rights.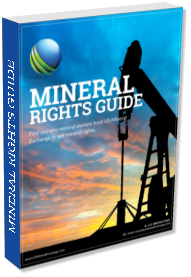 Client Reviews