Lowest Rig Count Since 1949

As a mineral owner, one thing to keep your eye on is the rig count.   Rig count is an indicator of how much activity is taking place in the oil and gas industry.  When rig counts are high it means the oil and gas companies are very active.  This means that companies are out there leasing up properties so they have an inventory of property for drilling.  When rig counts are low oil and gas companies reduce leasing or stop leasing.
We are currently looking at the lowest rig count since 1949.   The low rig count is due the low price of oil recently.  With oil prices still below $40/barrel and rig count at it's lowest level in over 50 years, the activity for leasing is grinding to a quick halt.  Companies have a large amount of acreage they leased but it's no longer profitable for them to drill.  This means they will let leases expire without drilling.  This also means that operators are not going to be leasing any new property until they drill up their current leases.
We are seeing a large number of mineral owners who are concerned about their declining royalty checks.   If your royalty checks have gone done, this is mainly caused by low oil prices.  The low rig count does not affect your royalties but it is an indicator that prices will remain low for some time until it becomes profitable to start drilling again.
A lot of mineral owners are trying to determine whether to sell mineral rights.  If you have seen your royalty checks decline recently, it may stay that way for some time.  Deciding to sell mineral rights can make since if you would rather have a guaranteed amount of cash now.   There is still strong demand for mineral rights from buyers right now.
Despite low rig counts, the price of oil is likely to stay low for a long period of time.   Operators are not confident the price is going to improve or they would be increasing rig count.   For now, mineral owners are advised to keep a close eye on the market including rig count.
Contact US Mineral Exchange:

If you have questions about your mineral rights, we're here to help!  We speak with mineral owners every day and we look forward to hearing from you.  Please don't hesitate to fill out the form below with any questions and our friendly team will respond quickly.
Common Questions

More Content from


US Mineral Exchange

FREE GUIDE

Download our free mineral rights guide now!  Learn more about your mineral rights.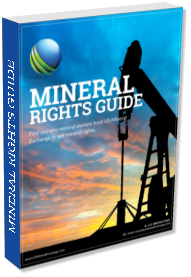 Client Reviews