Buy Mineral Rights

If you want to buy mineral rights, it takes a lot of time and money to locate mineral owners who wish to sell.  You can locate mineral owners by sending out direct mail, getting a local newspaper ad, or speaking with them one on one.  The problem is that all of these options take up a significant amount of your time and money.    At US Mineral Exchange, we have built a platform for mineral owners to get their property in front of a lot of buyers in a single location.    This benefits the mineral owner because they get to find the buyer who can pay them fair market value, but we are also a valuable resource to buy mineral rights as well.
There are two primary reasons why buying mineral rights at US Mineral Exchange is extremely beneficial:
No Brokers

Pre-Qualified Leads
No Brokers

One of the key advantages of working with US Mineral Exchange to buy mineral rights is that we only work directly with mineral owners.   We do not allow brokers to list properties at US Mineral Exchange.    What does this mean for you?  When you buy mineral rights at US Mineral Exchange, you are working directly with a mineral owner.  There aren't multiple brokers involved who are all trying to take a cut.
For mineral owners, this means they will pocket a larger amount of the offer you make.   When multiple brokers are involved and each is taking a cut, it reduces the amount that mineral owners actually receive.  When you buy mineral rights at US Mineral Exchange, we cut out all the unnecessary middlemen so that your offer is as competitive as possible.
For a mineral rights buyer, this means prices aren't artificially inflated to account for multiple brokers or huge commissions.  At US Mineral Exchange, our maximum commission is 6%.   When you buy mineral rights at US Mineral Exchange, you can feel confident that you aren't paying more because a broker is trying to take a huge cut or covering commission for multiple brokers.
The bottom line is that this is a huge advantage for both mineral owners and mineral buyers.  When you buy mineral rights at US Mineral Exchange, more cash goes into the mineral owners pocket and less goes to paying broker fees.
Pre-qualified Leads

Another benefit of locating deals at US Mineral Exchange is that we pre-qualify each new listing that gets set up.  We ensure that we are in fact working directly with the mineral owner.  We also require them to provide some basic documentation to prove their ownership.   This also helps reduce the number of sellers who aren't serious and won't take the time to send us the necessary paperwork to prove ownership.
While it's ultimately up to the buyer to conduct their own due diligence, we work hard to qualify each new listing up front.  This saves time and money working on properties that don't turn out to be what they seemed.
Buy Mineral Rights at US Mineral Exchange

Ready to get started?  If you want to buy mineral rights, sign up for an account using the link below.  Once we approve your account for full access, you'll be able to see all the information we have for each listing.   In addition, you'll get notifications when new listings become available that you may be interested in.
In the wrong place?  If you want to sell mineral rights, use the link below to sign up for an account:
Questions about how to Buy Mineral Rights?

If you have questions about US Mineral Exchange and our services, please fill out the contact form below.  We would be happy to help answer your questions.
Common Questions

FREE GUIDE

Download our free mineral rights guide now!  Learn more about your mineral rights.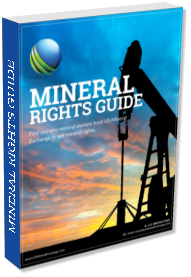 Client Reviews