Auction Mineral Rights

Do you want to auction mineral rights?  We recommend against a mineral rights auction.
The reason we recommend against mineral rights auctions is that mineral rights are a unique property type that is not a liquid investment.
What does that mean exactly?
When you sell a stock, there are thousands of shares trading hands every second.  The market value of a stock is known down to the second.   This is because there are thousands of orders being placed by buyers and seller.  All of these buyers and sellers are trading an identical item, a share of stock.  Everyone understand and agrees what is being bought and sold.
With mineral rights, what is being sold is unique.  Your specific location, the number of acres owned, your lease royalty rate, the type of interest you own, and many other factors play a role in what you are selling.  When you sell mineral rights, you are selling a unique property unlike any other mineral rights being sold.
There is also far less volume of buying / selling mineral rights compared to a stock.  This means the market price of mineral rights is unknown.
This is why we recommend against auctioning mineral rights.  It takes a lot of time for mineral buyers to understand what you own, determine the value, and prepare to make an offer. When you auction mineral rights, you are limiting the potential pool of buyers to only those who have had time to evaluate your property.
Rather than auction mineral rights, we recommend listing mineral rights for sale at US Mineral Exchange.  By listing mineral rights for sale, we can gauge potential interest from buyers who indicated they are reviewing.  We check in with all potential interest before an offer is accepted to ensure no other offers may be coming in.  This ensures you sell for the best price.
When you auction mineral rights, you reduce the number of mineral buyers who can make an offer by setting a strict deadline.  A mineral rights auction leads to fewer offers which translates into less money for you.
Where to auction mineral rights?

Another issue with mineral rights auctions is transparency.
There are a number of companies out there who offer mineral rights auctions.  The problem is that there is no auction. When you look at their website, there are no listings and you can't actually view auctions taking place.
How can a mineral rights auction get you a fair price if there are no auction listings?  It can't.
A mineral rights auction can't function unless it's public and has active participants.  When you get on ebay.com, you'll notice that you can see the listing, number of bids, time remaining, etc.   If you find a company offering to auction your mineral rights but they don't have an auction system in place, how can they get you a fair price?
At US Mineral Exchange, we offer the ability to list mineral rights.  We then negotiate privately to ensure the best market price available.  You can view our listings online and registered and approved buyers can view additional details and place bids.
Why Sell Mineral Rights at US Mineral Exchange

The primary reason to sell mineral rights at US Mineral Exchange is because you will sell mineral rights for the highest price. We do this by quickly getting your property in front of thousands of qualified buyers.  Mineral buyers will be competing against one another to pay the highest price for your mineral rights.   The only way to get the best price when selling mineral rights is competition.
One of the common mineral owner mistakes we see is selling mineral rights on your own.  Mineral owners will get a few offers in the mail, locate some mineral buyers online, and then accept the highest offer they find after some negotiation.
What these mineral owners don't realize is that they sold far below market value.  Why?  Even though your offer may have been the highest offer you found, only a tiny fraction of mineral buyers in the market even knew your mineral rights were for sale.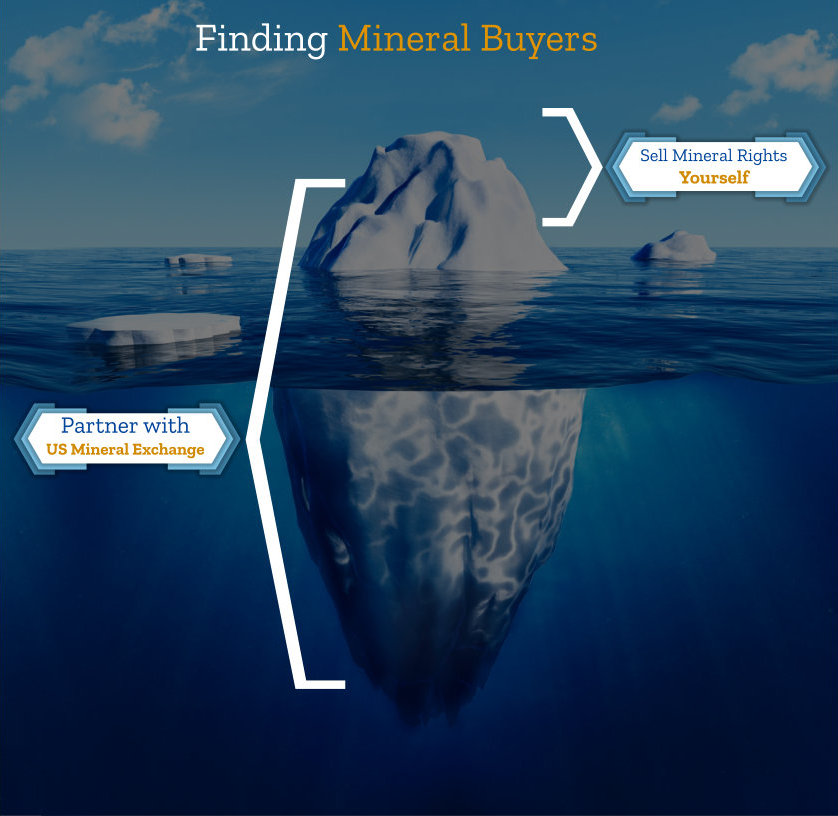 When you sell mineral rights at US Mineral Exchange, thousands of buyers will see your property is available and compete which drives the price higher.   Listing at US Mineral Exchange ensures that you get the highest market value available when you sell.
In addition to getting the highest fair market value available, we also ensure that the closing process goes smoothly and you do not get taken advantage of.  We will stand beside you every step of the way to ensure everything goes smoothly.
How to List Mineral Rights at US Mineral Exchange

To list mineral rights at US Mineral Exchange we need to collect some documentation from you.  The documentation that we request is necessary to ensure the best price possible.   We understand that it is a pain to gather documentation but doing so gives us the best chance possible to maximize value for you.    Here is the documentation required to list mineral rights at US Mineral Exchange:
If you receive royalty income:
Check Stubs –  We need to see full copies of your 3 most recent check stubs.  This is NOT the summary or total payment amount.  It needs to be the full detail showing the wells you are being paid on, revenue interest, etc.  If you do not have copies, please contact the operator who is paying you royalties to obtain copies.

Existing Offers –  Please provide us with your best offer in writing.
If your property is leased, but you do NOT receive royalty income:
Lease Agreement –  We need to see a full copy (all pages and addendum's) of your lease agreement.  An expired lease agreement also works if you don't have an active lease agreement.   A proposed leased is also acceptable.

Order for Payment –  Some documentation (bank statement, order for payment, letter agreement, etc) showing the amount you were paid in total and per acre when you signed your lease agreement.

Existing Offers –  Please provide us with your best offer in writing.
Please see our required documents to list page with more information about the necessary documentation as well as example documents.
Once you gather up the necessary documentation please fill out the contact form below or visit our free consultation page.
If you don't have the documentation yet or you simply have questions, please do not hesitate to fill out the form anyway!  We are here to help and would be happy to answer any questions you may have.
Ready to list mineral rights? Questions?

If you have questions or concerns about our mineral rights listing please don't hesitate to let us know.  The free consultation form is available below for you to get the process started or ask questions.
When you fill out the form one of our representatives will be in touch very soon to answer your questions.
Common Questions

More Content from


US Mineral Exchange

FREE GUIDE

Download our free mineral rights guide now!  Learn more about your mineral rights.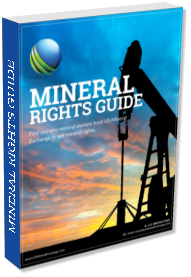 Client Reviews